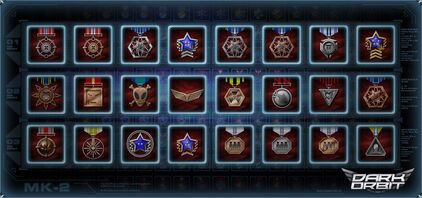 Achievements 
are the various goals or challenges for players to beat which have various tasks and missions to do but usually with a reward. Achievements also reward a title, depending on the achievement, which are usaully:
General Achievements
Activity Achievements, which has sub-categories:

Destruction
Collection
Factory

P.E.T.
PvP Achievements
Hello Space Pilots,
the Heads of the Companies know that you all like to compete, so they came up with something that reflects that – introducing: the Achievement system! Brag to your friends, gather points, rise through the ranks and show off your Medals you got along the way! With this multi-staged system you can keep track of your accomplishments in-game and focus on new challenges – don't be modest, show us what you can do!
Check out the new Achievement system in your Pilot Bio and see for yourselves!
Regards, Your DarkOrbit Team!
Quoted from: http://en.board.bigpoint.com/darkorbit/showthread.php?p=2317771#post2317771
General Achievements
Edit
Ninja Master
You are camouflaged for 60 minutes.
5 achievement points
Activity Achievements
Edit
Destruction
Edit
Collection
Edit
Small fortune
Edit
Collect 100 bonus boxes.
Small fortune
Edit
Collect 100 bonus boxes.
Waves of wealth
Edit
Collect 1.000 bonus boxes.
Boxful of riches
Edit
Collect 10.000 bonus boxes.
Collection rage
Edit
Collect 100.000 bonus boxes.
King of the Boxing
Edit
Collect 1.000.000 bonus boxes.
My first million
Edit
Collect 1.000.000 credits.
Constant cash-flow
Edit
Collect 5.000.000 credits.
Credit billionaire
Edit
Collect 7.500.000 credits.
Money, money, money!
Edit
.
Croesus Collect
Edit
25.500.000 credits.
No money no cry
Edit
Collect 100.000 Uridium.
Money on my mind
Edit
Collect 330.000 Uridium.
Mind on my money
Edit
Collect 500.000 Uridium.
Richy Rich
Edit
Collect 1.000.000 Uridium.
King Midas
Edit
Collect 2.500.000 Uridium.
Lightning raid
Edit
Destroy 5 targets in one try with the lightning attack tech.
Bonus box snuffler
Edit
Let your PET collect 500 bonus boxes.
P.E.T lover
Edit
Your P.E.T. is activated for 3.000 minutes.
The first joke
Edit
Decimation
Edit
Weapon of mass destruction
Edit
Destroy 1,000 player ships
The grim Reaper
Edit
Destroy 10,000 player ships
"Lord of likes" title
Edit
Only posible to achieve when you check out this page:http://darkorbit.wikia.com/wiki/How_to_get_%22Lord_of_likes%22_title
or use coupon ILIKEDARKORBIT
Ad blocker interference detected!
Wikia is a free-to-use site that makes money from advertising. We have a modified experience for viewers using ad blockers

Wikia is not accessible if you've made further modifications. Remove the custom ad blocker rule(s) and the page will load as expected.