Overview
Edit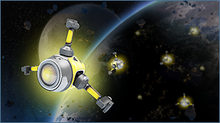 The Beacon is a special limited drone design released on 2015/9/16 as a donation to UNHCR; Available only for Payment in two groups of "Small Hope" and "Great Hope". All further information can be found Here. Note that when you buy this Beacon, all proceeds are donated to the UNHCR, the United Nations Refugee Agency.
In-Game Description
Edit
Beacon of Hope
Edit
These are troubled times: every day, thousands of men, women, and children are forced to flee their homes because their very lives are in danger. To escape a variety of threats, they travel long distances with only the bare necessities and while under terrible stress.Though we cannot change the circumstances that have driven these people from their homes, we can at least do something to help! For our part, the DarkOrbit team has created the "Beacon" drone design to show our support for all refugees worldwide. All proceeds will go directly to the UNHCR, so we can help ensure that those in need will be humanely accommodated, fed, and clothed. Find more information in the FAQ. If you want to help us support refugees, you will find the "Beacon" drone design in the shop.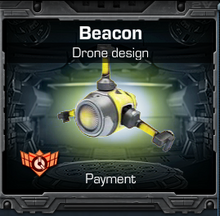 The Beacon drone design is available only by Payment and in two
groups if purchase:
Small Hope (One design): 2.49$
Great Hope (10 designs): 12.49$
When you buy this unique Beacon drone design, you're doing your part towards helping refugees all over the world.