Boss Devolarium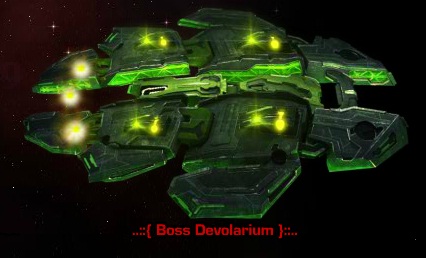 Official Description
The Boss Devolarium is four times stronger version of the regular
Devolarium
and has an attack with damage points almost equal to a
Kristallon
's. It is the second strongest lower sector Alien.

Boss Devolarium, (also known as Boss Devo) is four times stronger version of the Devolarium. This Alien is hostile to players and attacks on-sight. For weaker players, this Boss might require an outfit of players to assist in killing it. Most Sub Elite players take it out with no problem.
The Boss Devolarium is known for its speed while inflicting damage over time. It has speed slightly faster than a Sibelon. It is in almost every way twice as powerful as a normal Sibelon and half as powerful as a Boss Sibelon. Rewards, cargo drops, damage, shield and hp are X4 more than a normal Devolarium and are worth the time for Lower Map players.
Locations
Edit
Boss Devolarium can be found in:
Cargo Drop
Edit
A Boss Devolarium is roughly as strong as a Kristallon, although they are easier kill because of their slower speed. However you would need to kill two of these to get the same rewards as what the Kristallon gives.
Ad blocker interference detected!
Wikia is a free-to-use site that makes money from advertising. We have a modified experience for viewers using ad blockers

Wikia is not accessible if you've made further modifications. Remove the custom ad blocker rule(s) and the page will load as expected.