Boss Kristallin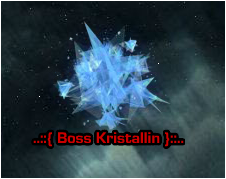 Official Description
Stronger version of the Kristallin, they appear a much darker blue.
Boss Kristallin are the small dark blue aliens that are four times as strong as regular Kristallin. They have the same damage as a Kristallon but are much faster. They should be dealt with caution as they are agressive and shoot on sight. The reward for destroying one of these aliens is worth the time and effort.
They also give more rank points than a Cubikon. (Cubikon gives 10, Boss Kristallin gives 12)
Boss Kristallin are located in:
Cargo Drop
Edit
Level 10: Boss_of_Bosses
Ad blocker interference detected!
Wikia is a free-to-use site that makes money from advertising. We have a modified experience for viewers using ad blockers

Wikia is not accessible if you've made further modifications. Remove the custom ad blocker rule(s) and the page will load as expected.