Boss Lordakia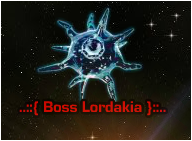 Official Description
4x as strong as a normal Lordakia. They call other Lordakia to assist it
Boss Lordakia are the stronger version of the original Lordakia. They are somewhat harder to find and give a larger reward than the Lordakia (4X larger). They are a minor threat only to the newest of players and can easily be destroyed by pretty much anyone. Apart from providing a relatively worthwhile reward and being the toughest alien on the X-2 maps, the Boss Lordakia is just another easy to kill NPC.
Boss Lordakia are located in X-2 and 4-5. They are also found in Lambda Gate.
Cargo Drop
Edit
Ad blocker interference detected!
Wikia is a free-to-use site that makes money from advertising. We have a modified experience for viewers using ad blockers

Wikia is not accessible if you've made further modifications. Remove the custom ad blocker rule(s) and the page will load as expected.