Century Falcon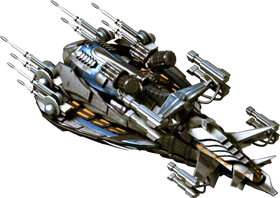 Century Falcon is a massive mothership that releases Vagrants when attacked, much like the Cubikon with its Protegits. It's hitpoints and shields are massive and should require a full outfit due to it being like a mobile Cubikon. Rewards are split throughout the outfit. Strangely enough, its cargo drop is only 1 of each Ore.
It is the only LoW alien that does not appear in the Epsilon Gate.
Location
Edit
The Century Falcon is located in the LoW gate, near the middle of the map, and in the Kappa Gate. it is also located in some invasion gates.
Cargo Drop
Edit
The name "Century Falcon" is a reference to the "Millennium Falcon" from Star Wars.
This alien gives 2000 points to your vants, which is far beyond any other NPCs can give.
Ad blocker interference detected!
Wikia is a free-to-use site that makes money from advertising. We have a modified experience for viewers using ad blockers

Wikia is not accessible if you've made further modifications. Remove the custom ad blocker rule(s) and the page will load as expected.