OVERITERVIEW!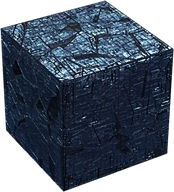 Cubikid was an event or special alien that appeared. It is not known if it will return. It has it's own "minions" named the Protekid. These aliens are similar to the known Cubikon and the Protegit. They may be considered weaker because of the "kid" in their name.
The difference is the HP and Shield depending on where they are. They have less HP and Shield in x-2 and it gets higher by the number x-(x), so that means they have higher HP and Shield in x-3 and much higher in x-4.
Cubikid gives 10 rankpoint like Cubikon, so its really good to kill them so you can get fast rankpoint instead of killing Cubikons, because of the Cubikons' difficulty.
HP: 1,750,000
Shield: 1,225,000
Damage: 0
Speed: 455
EP: 80045
Honor: 5004
Credits: 5,984,780
Uridium: 5, 000
Protekid
HP: 25,000
Shield: 20,000
Damage: 700 - 1,300
Speed: 410
Ad blocker interference detected!
Wikia is a free-to-use site that makes money from advertising. We have a modified experience for viewers using ad blockers

Wikia is not accessible if you've made further modifications. Remove the custom ad blocker rule(s) and the page will load as expected.