Demaner Escort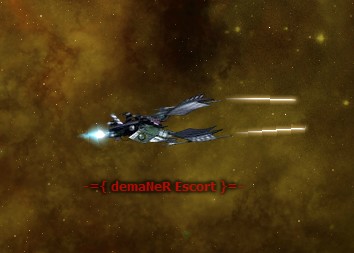 Official Description
Demaner Escort is the ship that protects the massive Demaner Freighter. They are fast and tough and give about the same Uridium as an Uber Kristallon; however, they do much less damage and give fewer Credits.
Attack them with your clan members or if there are many people shooting at it, join in the fight, make sure to not be in an outfit so that the rewards do not get split, and everyone gets the full rewards. It makes everyone happy.
Keep moving.
They require a lot of patience and ammo to kill, beware the enemy companies.
They seem to attack with UCB-100 ammo.
Unlike the usual split rewards between the people who shot at it, these aliens grant everyone who shot at it the full rewards, regardless of when they joined in the fight. However, the rewards ARE split when the users are in an outfit.
They miss moving targets.
They use the SaNeJiEwZ's sprites.