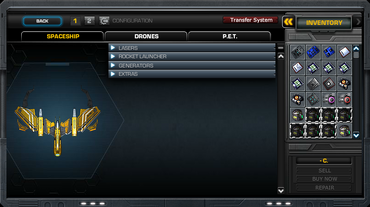 Equipment is the second section of the Hangar. This is where you are able to change and sell your current ship's equipment or inventory. This is done by dragging the desired item from your inventory on the right, to the empty ship slots in the middle. You are also able to change the equipment of any drones you own or even a P.E.T. 10 by clicking the appropriate tabs.
Configuration
Edit
Configuration lets you edit separate configurations by pressing either '1' or '2' buttons near the top left.
Spaceship
Edit
Spaceship tab shows you a simple birds eye view of your current ship's design, which you can change by the drop down menu on the top right.
Drones is the tab which you can equip your drone's slots with items or change it's design.
P.E.T. is the tab where you can equip items for your P.E.T such as sheilds, lasers, and P.E.T gear and protocol. You can also rename it costing at 3,000 uridium.
Designs can be accesed by the drop down list of currently owned designs for your ship.
Inventory
Edit
Inventory shows all owned items in a mini square panel to the right, which can be maximized by pressing the double arrow going left.