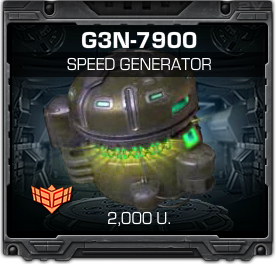 The G3N-7900 is an elite speed generator which increases a ships speed +10.
It is the best Uridium speed generator available, one step up from the G3N-6900.
A single G3N-7900 is available for 2,000 Uridium in the Shop.
It is also available in Auction to be bid on using Credits.
The price of this is generally low in Auction and can be obtained around five million credits or more (dependent on server).
In-game description
Edit
G3N-7900 speed generator
Increases ship speed +10