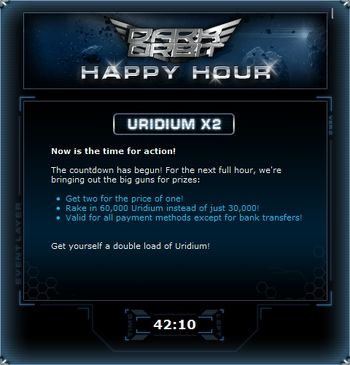 Happy Hour (also known as HH) is a special promotion that occurs on random events, usually on or near times when events take place. This offer acts when purchasing Uridium from payment, will give you times 2 Uridium in total (Also works for free offers). For example, you purchase 30,000 Uridium for $12.99 by purchasing this on Happy Hour, you receive 60,000 Uridium instead.
If you have a Banking Doubler, it will not do anything to what you buy on Happy Hour, if you use it on Happy Hour, you will still have it once you buy something on Happy Hour.
This promotion only work if you are buying uridium, and not Premium Packs, Advantage Packs, Starter Kits, Saving Packs or Ship Designs.
Only buy uridium on happy hour if you really have to, as mega happy hour comes shortly after it sometime in the week.
Do you own a Twitter account?
Great news, if you do, be sure to check out the Dark Orbit Bible [When is Mega Happy Hour and Upgrading Bonus Hour?] if you want to track Happy Hour, Mega Happy Hour, and Upgrade Bonus Hour bonus hours via Twitter!
Just with the click of a Follow button, you can have instant access to be notified when a Happy Hour occurs!
Follow @darkorbit_happy for tracking Happy Hour events and more info!
Ad blocker interference detected!
Wikia is a free-to-use site that makes money from advertising. We have a modified experience for viewers using ad blockers

Wikia is not accessible if you've made further modifications. Remove the custom ad blocker rule(s) and the page will load as expected.