Note:
Title is no longer obtainable.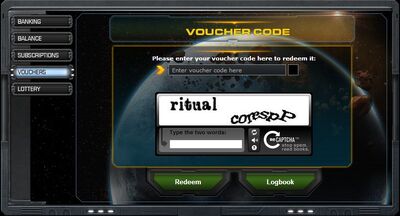 This is the tutorial on how to get the "Lord of likes" title.
The steps:
Edit
Go to Uridium page
Press on the voucher button
Insert this text: ilikedarkorbit
Press on the redeem button
it will say that the code is activated
To check your work
Edit
Go to your Pilot sheet and press on you achievements. Then click on the title button and you will see the "Lord of likes" title activate it and voila, you got it :)
Click photos to enlarge

Ad blocker interference detected!
Wikia is a free-to-use site that makes money from advertising. We have a modified experience for viewers using ad blockers

Wikia is not accessible if you've made further modifications. Remove the custom ad blocker rule(s) and the page will load as expected.