Icy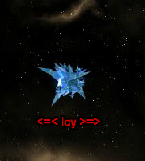 Icy are small crystal-looking aliens are perfect for putting in your coke to keep it cold, they resemble blue kristallins. They are released in swarms by the Ice Meteoroid when attacked.
Strangely enough, Icys don't shoot your typical Alien ammo, these shoot red lasers rather than balls of ice or crystals such as the Kristallon and Kristallin, more like a Streuner.
Icy's can be found along with the appearance of an Ice Meteoroid which can be on any map whatsoever; the Ice Meteoroid has the uniqe ability to teleport from map to map like a normal player, carrying its Icy's with it. Icy's can also be found in the Kappa Gate
Cargo Drop
Edit
It is certain death to attack these while a Kristallin is attacking you, so attack them with a P.E.T. 10
These have a very fast speed (speed of a protegit or better), this means you might not be abled to escape at low HP.
Like all Alien fighters, taking on too many at once is certain death for anyone below a Goliath, especialy when the Ice Meteoroid is there too.