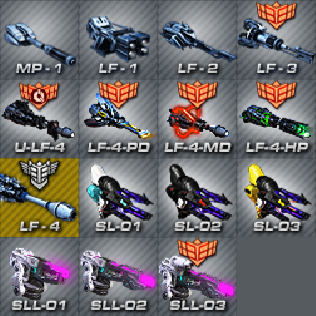 A Laser cannon is the primary weapon any ship has that is required to deal damage to enemy player ships or aliens. There are 6 Credit purchased laser cannons and 1 Uridium purchased one with increased stats.
The latest addition to the laser cannon family are the augmented LF-4s, which are the strongest elite laser cannons currently available.
Where are they found?
Edit
How to equip
Edit
You equip a laser cannon to an unused weapon slot on your ship's configuration. You can also equip one to any drone available and even a P.E.T. 10 (if owned).
Note: you have to be at a friendly base or logged out of the game client to equip or change a laser cannon.
Ammunition and how to use
Edit
The primary ammo that a laser cannon uses are called batteries.
To start shooting lasers you first need ammunition available and the laser cannon equipped. Next you need a valid target you can click on, then if enabled in the options menu, you can either:
Manually click on the desired battery on the bar at the bottom of the screen.
Double clicking the mouse if enabled in the options.
Pressing the Hot Key Ctrl/Cmd until pressed again to turn back off.
Upgrading stats
Edit
You can upgrade any laser cannon using Ore. The upgraded shots are depleted by 1 ore piece for every 10 shots fired.
Laser cannon comparison
Edit
Laser cannon
Cost
LCB-10 damage
LF-1
10.000 Credits in the Shop

40

MP-1
40.000 Credits in the Shop
60
SL-01 Scatter

Laser I

2.500.000 Credits in the Shop
105 (every 5 seconds, deal a extra 37,5) 25% lower range
SLL-01 Spectral

Lancer I

50.000 Credits in the Shop
80 -Players / 125 -NPC
LF-2
100
SL-02 Scatter

Laser II

Crafting in Assembly.
120 (every 5 seconds, deal a extra 75) 25% lower range
SLL-02 Spectral

Lancer II

300.000 Credits in the Shop
90 -Players / 145 -NPC
LF-3
10,000 Uridium in the Shop, bid in Trade, crafting in Assembly, obtained in the Daily Calendar or in Booty boxes.

150

SL-03 Scatter

Laser III

Crafting in Assembly or can be obtained in the Daily Calendar.
150 (every 5 seconds, deal a extra 150) ''25% lower range
SLL-03 Spectral Lancer III
Crafting in Assembly.
130 -Players / 175 -NPC
LF-4

Pirate Booty, Epsilon Gate, Hades Gate, Kappa Gate or obtained in the Daily Calendar.

200
U-LF-4

Unstable LF-4

Crafting in Assembly or by the special Gate during the A Cold Day in Hell​ event or aquired through Red/Blue or Obsidian Booty boxes.
128 - 220

(varies by 42%)

LF-4-PD LF-4
Crafting in Assembly or obtained in the Daily Calendar.
212 -Players / 217 -NPC
LF-4-MD LF-4
Crafting in Assembly or obtained in the Daily Calendar.
217 -Players / 212 -NPC
LF-4-HP LF-4 Hyperplasmoid
Crafting in Assembly or obtained in the Daily Calendar.
212

(+0.5 HP bonus per LF-4)