Lordakium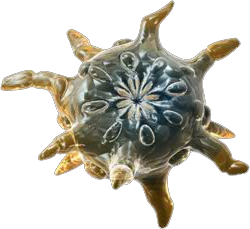 Lordakium are the stronger version of the Lordakia. These aliens are known to be very slow, but pack quite the damage with their homing squid attack. Fortunately they are passive and do not fire until fired upon. This makes them not as dangerous as even some of the smaller aliens, in spite of their high damage attack. Since the only other aliens in X-5 are Lordakia and Sibelonit, those who are high enough level to reach them should be able to take them out more easily than the Sibelon, with good rewards.
Lordakium are only located in X-5 maps
Cargo Drop
Edit

Total:1096 cargo
Hunt them in a team since they have extremely high hit points or shoot them out of their reach, if you are strong enough you can take the damage and defeat one.
Dragging it to a portal and repair if the Lordakia and Sibelonit have damaged your ship, then begin shooting UCB-100, rockets, and if available, rocket launcher hellstorm.
Having two configurations with about 140,000 shields on each should last enough to destroy the Lordakium.