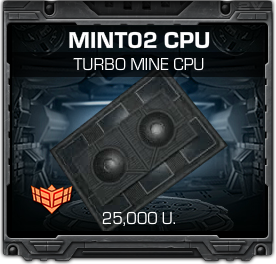 MINT02 CPU is a computer that increases you mine reloading time by 50%. This computer is very usefull in a battle when you have a couple of enemies shooting you. When having this computer equiped you should deploy mines as much as you can. Using this makes your kills more easier. It can be won in trade very easily and you should bid around 5,000 to 15,000 credits. It is very widely used within FE players
Ad blocker interference detected!
Wikia is a free-to-use site that makes money from advertising. We have a modified experience for viewers using ad blockers

Wikia is not accessible if you've made further modifications. Remove the custom ad blocker rule(s) and the page will load as expected.