MP-1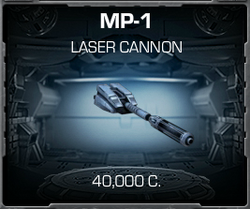 Official Description
Small laser: causes up to 60 damage points per shot
MP-1 is a credit bought Laser Cannon. It does around 60 damage per shot. At the beginning of the game, your ship is equipped with one of these.
The next powerful Laser Cannon is the LF-2.
40,000 Credits each Laser.
Obtaining MP-1
Edit
MP-1 are available in the Shop all the time.
In-game description
Edit
Average laser: causes up to 60 damage points per round
Ad blocker interference detected!
Wikia is a free-to-use site that makes money from advertising. We have a modified experience for viewers using ad blockers

Wikia is not accessible if you've made further modifications. Remove the custom ad blocker rule(s) and the page will load as expected.