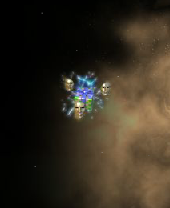 Mardi Gras Boxes
are special
Bonus Boxes
that appeared throughout February 17–21 to celebrate
Mardi Gras
. These boxes are visually different than normal boxes which feature a present in the middle, with three masks encircling it. The contents are much better than the normal box due to it having much more items such as Uridium bought fireworks. They can be found in regular box locations.
Box Contents
Edit
Arranged from common to rare.
R-310 Rockets (Tier 1 Rockets)
Credits (Small Amounts)
PLT-2026 (Tier 2 Rockets)
PLT-2021 (Tier 3 Rockets)
Xenomit (60 to 200)
ECO-10 (Tier 1 Rockets for Rocket Laucher)
Fireworks (FWX-S, FWX-M, FWX-L)
Extra Energy for Galaxy Gate Generator
Uridium (up to 150)
Chance to receive 100,000 Credits and 10,000 LCB-10 (x1) ammo
P.E.T. Fuel
Ad blocker interference detected!
Wikia is a free-to-use site that makes money from advertising. We have a modified experience for viewers using ad blockers

Wikia is not accessible if you've made further modifications. Remove the custom ad blocker rule(s) and the page will load as expected.