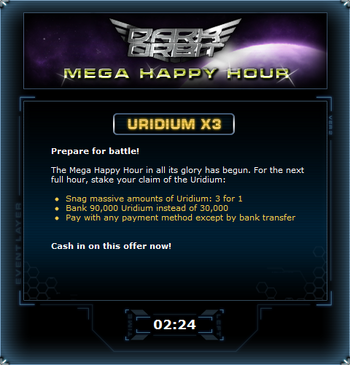 Mega Happy Hour is a special promotion that occurs on random events, usually on or near times when events take place, or 19:00 every sunday.
This offer acts when purchasing Uridium from payment, will give you three times the Uridium in total. For example, you purchase 60,000 Uridium for $20.00. By purchasing this on Mega Happy Hour, you receive 180,000 Uridium instead of 60,000.
If you have a Banking Doubler, it will not do anything to what you buy on Mega Happy Hour, if you use it on Mega Happy Hour, you will still have it once you buy something on Mega Happy Hour.
This promotion only work if you are buying uridium, and not Premium Packs ,Advantage Packs, Starter Kits, Saving Packs or Ship Designs.
Mega Happy Hour normally happens every weekend, around the afternoon. If you miss out on Mega Happy Hour, don't worry! There's usually a regular Happy Hour in the next few days.
Tips:
Consider purchasing Uridium only during this special offer, you will get triple of what you payed for.
See also
Have a Twitter account? If so, be sure to follow Dark Orbit Bible @darkorbit_happy to be notified of any upcoming Happy Hour, Mega Happy Hour, and Upgrade Bonus Hours!
Ad blocker interference detected!
Wikia is a free-to-use site that makes money from advertising. We have a modified experience for viewers using ad blockers

Wikia is not accessible if you've made further modifications. Remove the custom ad blocker rule(s) and the page will load as expected.