Melter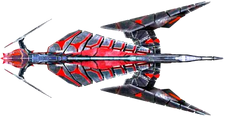 The Melter is f​airly large alien found in the Zeta Gate and the Kappa Gate.
The melter is a fairly easy alien that just takes a while to kill for FEs . Two ways are to drag with speed and requires stop starting to keep pace. Second way is to use low speed and drag this takes more damage but it's a lot easier. If you have aegis use the second method.
The speed of the Melter varies from 280-310. It is easy to destroy considering its relatively small hitpoints and shield power.