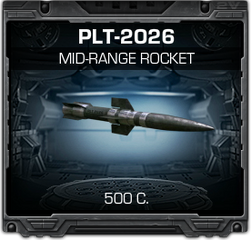 PLT-2026 is the best
credit
bought
rocket
. They are the most popular rockets among new players who are able to afford these and at the same time save
uridium
.
Full Elite
players also tend to use this rocket but prefer to purchase the much more powerful,
PLT-2021
. It is one step up from the
R-310
rockets, and one step down from the 
PLT-2021
rocket.
500 Credits per rocket unit.
Statistics
Edit
Mid-range rocket: causes up to 2,000 damage points per rocket fired.
Very good rocket for new players, or a good replacement for elite rockets for players who are low on Uridium.
Ad blocker interference detected!
Wikia is a free-to-use site that makes money from advertising. We have a modified experience for viewers using ad blockers

Wikia is not accessible if you've made further modifications. Remove the custom ad blocker rule(s) and the page will load as expected.