PLT-3030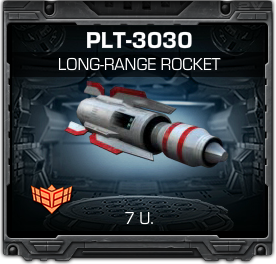 PLT-3030 is the most expensive uridium bought rocket in the Shop. It is currently the strongest rocket available in the shop but it has a lower accuracy rate. This top-of-the-range rocket is one step up from the PLT-2021 rocket and one step down BDR-1211 (Not counting the battle against players).
7 Uridium per rocket unit. (also available in Auction)
Can be picked up in Pirate Booty
Statistics
Edit
Causes up to 6,000 damage points per rocket. (can be higher with pilot skills)
Has a low accuracy rate due to its impressive firepower, but an exceptional rocket when used in combination with the Tech Center's Precision Targeter.
Ad blocker interference detected!
Wikia is a free-to-use site that makes money from advertising. We have a modified experience for viewers using ad blockers

Wikia is not accessible if you've made further modifications. Remove the custom ad blocker rule(s) and the page will load as expected.