Phoenix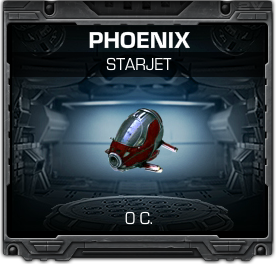 Official Description
Starter Ship
Phoenix is a free Starjet ship but no longer the ship you start with. It has the lowest health for a ship including one laser slot, an extra, and one generator. Since it is free, it is recommended to only purchase this if you do not have any Credits and need a ship to use. Rarely you will find a player in a Phoenix that is Full-Elite or Ultra-Elite due to rankings.
Drones level up the fastest with the Phoenix although the Leonov has much better stats.
Ad blocker interference detected!
Wikia is a free-to-use site that makes money from advertising. We have a modified experience for viewers using ad blockers

Wikia is not accessible if you've made further modifications. Remove the custom ad blocker rule(s) and the page will load as expected.