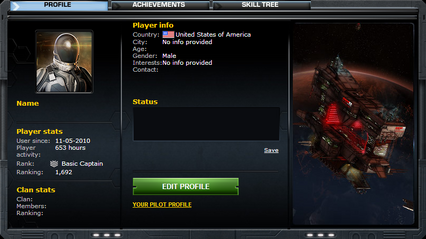 Pilot Sheet is the page under Home where you can find personal info on your own Profile tab, an Achievements page, and the Skill tree where research points are found.
The Profile tab is where you can find information about yourself such as your date joined, basic clan info, even a summary of your gender and location.
Achievements
Edit
This is where you can view any and all available in-game achievements and even select an earned Title to have under your ship.
View list of current achievements.
Skill tree
Edit
The Skill tree is where you can upgrade certain stats using Log-Disks; such as increasing shield strength by 25% or even having your rockets cause 15% more damage.
View full Skill tree for more info.
Ad blocker interference detected!
Wikia is a free-to-use site that makes money from advertising. We have a modified experience for viewers using ad blockers

Wikia is not accessible if you've made further modifications. Remove the custom ad blocker rule(s) and the page will load as expected.