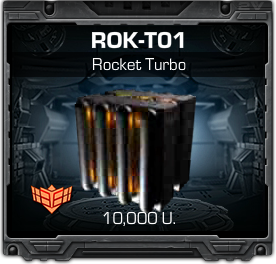 ROK-T01 is an elite rocket booster which when equipped, doubles your current ship's rocket firing rate. It is available in the Shop for 10,000 Uridium and can also be won in Auction.
This booster can be very useful and is used by the majority of Full-Elite players. Shooting double the rockets than if your enemy didn't grants you more damage than them. Consider saving for one of these be it with Credits or Uridium. Only one of these items can be used per configuration.
Ad blocker interference detected!
Wikia is a free-to-use site that makes money from advertising. We have a modified experience for viewers using ad blockers

Wikia is not accessible if you've made further modifications. Remove the custom ad blocker rule(s) and the page will load as expected.