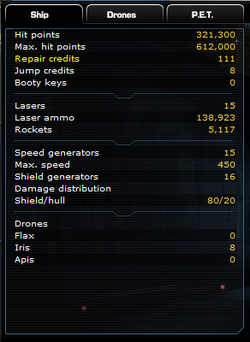 A Repair credit is a single free repair for any ship or drone available that is damaged. You can view how many you have on the Overview page.
How to earn
Edit
You can earn repair credits in multiple ways:
If you have a ship which can be bought for Credits, it is not recommended to use a repair credit but to buy the ship again with Credits available.
Ad blocker interference detected!
Wikia is a free-to-use site that makes money from advertising. We have a modified experience for viewers using ad blockers

Wikia is not accessible if you've made further modifications. Remove the custom ad blocker rule(s) and the page will load as expected.