Scorcher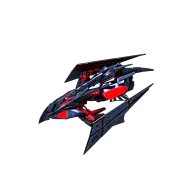 Scorcher is an alien found in the Zeta Gate and the Kappa Gate. These aliens are similar to the -=Hooligan=- aliens in the Epsilon Gate and to the -=Sibelon=- aliens.
Cargo Drop
Edit
These are hard to beat in swarms, so it's recommended trying to gather them up and flying until they are far ahead, then cutting close to the aliens and grabbing a lock.
These aliens were introduced back in the Y4 gate, but they were given the name Unidentified Dreadnaught.
Ad blocker interference detected!
Wikia is a free-to-use site that makes money from advertising. We have a modified experience for viewers using ad blockers

Wikia is not accessible if you've made further modifications. Remove the custom ad blocker rule(s) and the page will load as expected.