Servers are the various networks available to play in and vary mainly by language and the connectivity to the server. Each server is like a brand new account, starting with a new ship and equipment if you have not started a new server yet. You are only able to play on one server at a time.
Server list Pl3
Edit
Below is a list of servers that are currently available: America (East)
Global Europe
Global Europe 1
Global Europe 2
Global Europe 3
Global Europe 5
Global Europe 6
Global Europe 7
Germany
Germany 2
Germany 3
Germany 4
Germany 5
Germany 6
Germany 8
Great Britain
Great Britain 2
Italy
Italy 2
Italy 3
France
France 2
France 3
France 4
Spain
Spain 2
Spain 3
Spain 4
Global America 5
Brazil 1
Global America
Global America 2
USA (East Coast) (introduced April 7th, 2008)
USA 2 (East Coast)
USA 3 (East Coast)
Brazil 2
America (West)
Edit
Europe (East)
Edit
Server test 1
Czech Republic 2
Czech Republic 3
Hungary 1
Poland 1
Poland 2
Poland 3
Russia
Russia 2
Russia 3
Russia 4
Russia 5
Russia 6
Turkey
Turkey 2
Turkey 3
Turkey 4
Turkey 5
Turkey 6
Test server
Edit
Once in a while, DarkOrbit will release a
Test Server
to test out a new product. Anything you do on that server will not be recorded once it is removed.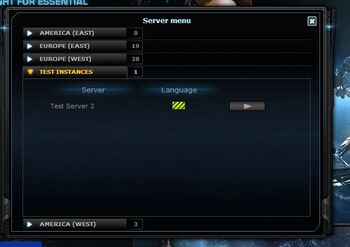 Server abbreviation
Edit
Last updated March 18, 2012. (not in order, but includes additional informatiobal Europe 61
int1 Global Europe
int8 Global America 4
gb1 Great Britain
gb2 Great Britain 2
us4 USA 3 (East Coast)
us2 USA (West Coast)
de1 Germany
fr1 France
it1 Italy
ru1 Russia
pl1 Poland
tr1 Turkey
es1 Spain
int3 Scandinavia
fr2 France 2
de2 Germany 2
tr2 Turkey 2
ru2 Russia 2
int5 Global Europe 2
cz1 Czech Republic
tr3 Turkey 3
pl2 Poland 2
de3 Germany 3
ru3 Russia 3
int7 Global Europe 3
it2 Italy 2
es2 Spain 2
tr4 Turkey 4
ru4 Russia 4
int10 Global Europe 4
fr3 France 3
de4 Germany 4
int11 Global Europe 5
es3 Spain 3
it3 Italy 3
cz2 Czech Republic 2
ru5 Russia 5
fr4 France 4
tr5 Turkey 5
pl3 Poland 3
hu1 Hungary 1
ru6 Russia 6
tr6 Turkey 6
de5 Germany 5
de6 Germany 6
int14 Global Europe 7
es4 Spain 4
de7 Germany 7
cz3 Czech Republic 3
us1 USA (East Coast)
int2 Global America
int6 Global America 2
us3 USA 2 (East Coast)
int12 Global America 3
br1 Brazil 1
int15 Global America 5
mx1 Mexico 1
test1, test2 test server
LosMajos7 server
Ad blocker interference detected!
Wikia is a free-to-use site that makes money from advertising. We have a modified experience for viewers using ad blockers

Wikia is not accessible if you've made further modifications. Remove the custom ad blocker rule(s) and the page will load as expected.