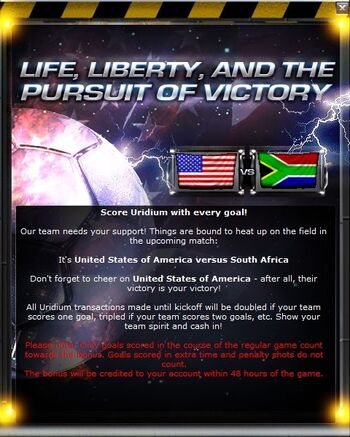 The Soccer Event is a special promotion similar to Happy Hour and Mega Happy Hour. If you are to purchase Uridium while this offer is active, you will earn double Uridium for every goal the chosen team scores. So if 30,000 Uridium was purchased, then your team scores one goal, 60,000 Uridium is earned.
If you purchased Uridium and your team does not score any goals, then what you purchased from the start is only what you get.
This event is like gambling, you may win a lot or you may gain nothing.
You should pay in this event only if:
Your team (the national team of server you play) is very good.
Your team is playing against a weaker team (so avoid paying during hard-to-win matches).
Ad blocker interference detected!
Wikia is a free-to-use site that makes money from advertising. We have a modified experience for viewers using ad blockers

Wikia is not accessible if you've made further modifications. Remove the custom ad blocker rule(s) and the page will load as expected.