StreuneR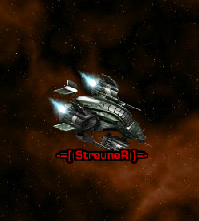 The StreuneR, a stronger version of the Streuner (found in X-1), are typically not a threat to any player who enter X-8. These Alien are a decent source of Uridium as they are easy to kill, swarm about your ship, and will not attack until fired upon. (Just like their "ancestors" the Streuners )
Overview
They are quite a surprise for a player who only just came to X-8 but they are only about the power of a Mordon, with higher speed, and slightly higher damage. Being easy to deal with for almost any type of ship provided the right lasers and ammunition, are at hand for the lower level ships, the StreuneR is nothing to be feared!
Location
StreuneRs are located in:
Cargo Drop

Total:256
Base selling price: 7,200 credits
Quests
The following quests require you to destroy StreuneRs:
Tips
Trivia
Ad blocker interference detected!
Wikia is a free-to-use site that makes money from advertising. We have a modified experience for viewers using ad blockers

Wikia is not accessible if you've made further modifications. Remove the custom ad blocker rule(s) and the page will load as expected.