Super Ice Meteoroid
Destroy Rewards
EP
440.000 (easy), 2.000.000 on 4-4/4-5
Honor
1600 (easy), 8000 on 4-4/4-5
Credits
1.200.000 (easy), 6.000.000 on 4-4/4-5
Uridium
600 (easy), 3000 on 4-4/4-5
Official Description
Much different than the Ice Meteoroid, this alien should be dealt with extra caution due to it's extra damage output.
Super Ice Meteoroid is a rare and much stronger version of the original Ice Meteoroid and features a purple crystal color rather than the original blue. Note that Super Ice Meteoroids do not launch Super Icys.
Locations
Edit
Super Ice Meteoroid can only be found on 4-4 and 4-5, and during mission "The great escape (easy)" or "The great escape (Hard)" 2014.12.11, and other special events.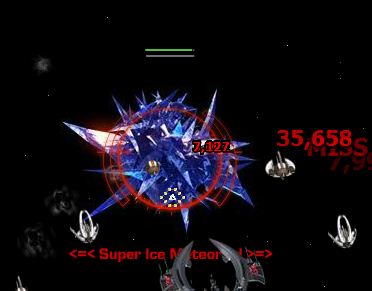 Cargo Drop
Edit
Ad blocker interference detected!
Wikia is a free-to-use site that makes money from advertising. We have a modified experience for viewers using ad blockers

Wikia is not accessible if you've made further modifications. Remove the custom ad blocker rule(s) and the page will load as expected.