Uber Saimon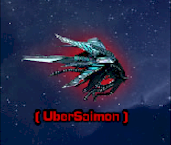 Official Description
A fast moving alien, Sub-Elite players and higher should be able to deal with this alien.
Uber Saimon is a much stronger type of Saimon which attacks players on-sight. For lower level players and even the low hp Piranha, this alien will require an outfit to take it out.
Uber Saimon deal moderate to low damage but are strong when in groups, especially in the uber map 4-5. They are known for their speed but not damage. It is slightly faster than a Lordakia. It is also three times stronger than a regular Mordon. Rewards, cargo drops, damage, sheild, hp are times 8 more than a Saimon. Overall it would be worth to hunt these aliens for the rewards.
Locations
Edit
Uber Saimon are only located in 4-5.
Cargo Drop
Edit