Uber Sibelon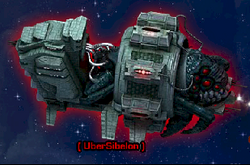 Official Description
The strongest of the Sibelons, the Uber Sibelon is found only in 4-5 and packs a substantial punch in return for pretty good rewards.
Uber Sibelon
are eight times stronger version of the
Regular
alien;
Sibelon
and two times stronger than the
Boss Sibelon
. They are dangerous aliens to deal with alone and should be dealt with in teams or outfits. The rewards given are substantially good, but difficult to attain. They give half the rewards and less
cargo box
rewards than a
Boss Kristallon
but have higher
damage
, although
Kristallons
are faster. They are not worth your time, unless for missions.
Uber Sibelon are only located in:
Cargo Drop
Edit