Uber Sibelonit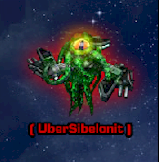 Official Description
A Uber Sibelonit is eight times stronger than a regular Sibelonit and has an outer red glow.
Uber Sibelonit are the much stronger version of the Sibelonit. These Alien are hostile to players and attack on-sight. For the regular sub elite players might require a small outfit of players to destroy.
Uber Sibelonit deal somewhat of an amount of damage over time. It is usually recommended to avoid these and destroy more valuable aliens with bigger rewards. They have reasonable speed to keep up with passing players shooting small alien ammunition. Health, damage, and rewards are times 8 more than a regular Sibelonit.
Locations
Edit
Uber Sibelonit are only found in:
TÜRKİYE cCc
Edit
Ad blocker interference detected!
Wikia is a free-to-use site that makes money from advertising. We have a modified experience for viewers using ad blockers

Wikia is not accessible if you've made further modifications. Remove the custom ad blocker rule(s) and the page will load as expected.