Uber StreuneR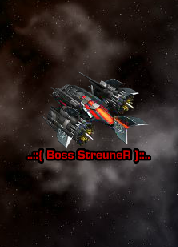 Uber StreuneR is a Uber type alien that is the stronger version of the regular StreuneR. This alien is found only on the Uber map 4-5.
It will fire at any players that pass by due to the new update. It is stronger than a Devolarium but rewards the same Credits. It is also weaker than a Sibelon, but rewards twice the amount of Uridium.
Fighting this alien is worth the trouble, given the fact that it also can provide boosters for a reasonably low risk, plus the reasonable rewards.
EDIT: --[8/22/2017]
They aren't passive, their first shot being their rocket. You'll have some trouble with it when you'll encounter it firstly. It's a strong NPC for a FE player.
NPC List:
Edit
Ad blocker interference detected!
Wikia is a free-to-use site that makes money from advertising. We have a modified experience for viewers using ad blockers

Wikia is not accessible if you've made further modifications. Remove the custom ad blocker rule(s) and the page will load as expected.