Uber Lordakium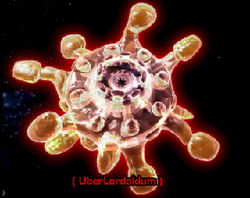 Official Description
The second most powerful alien to be found in 4-5. Be careful not to attack it by accident, for it will cut through your shields like carving a cake.
Uber Lordakium, (also known as Uber lorde) is the much stronger version of the Lordakium. This NPC is Passive to players. For Sub Elite players, this uber is all but impossible. Full-Elite players will need sab and x3 or x4 to solo it. Ultra elite should take it out with no problem. The trick is to remain out of it's field of fire, or trying to bug it so that you can pick it off easily. Also try to kill it near the battlestation in 4-5 to avoid other aliens from interfering with your fight.
Uber Lordakium deal heavy damage alone and can easily destroy any player over time. It is recommended to avoid these as to the rewards they give aren't worth the fight. The Uber Lordakium has pathetic speed but makes this up with its brutal damage. It has speed of a Sibelon. It has two thirds the strenght of a Uber Kristallon. Rewards, cargo drops, damage, sheild, hp are 8 times more than a normal Lordakium and aren't worth the time for players.
Locations
Edit
Uber Lordakium are only located in 4-5 And The Hades Gate Wave 2
Cargo Drop
Edit
Ad blocker interference detected!
Wikia is a free-to-use site that makes money from advertising. We have a modified experience for viewers using ad blockers

Wikia is not accessible if you've made further modifications. Remove the custom ad blocker rule(s) and the page will load as expected.