2015 calendar
Edit
2012 calendar and rewards
Edit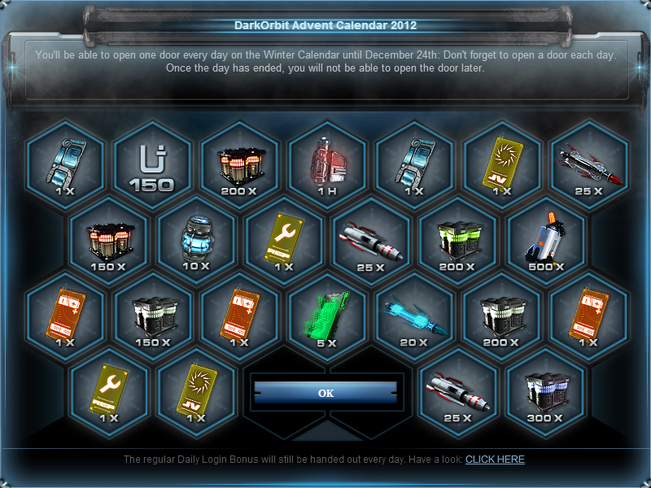 The Winterfest 2012 calendar introduces a new bonus system for the Winterfest 2012 event. The calendar features a hexagon grid with the numbers 1 - 24 fixed randomly in the popup found when you first login to the Darkorbit server. From December 1, 2012 to December 24, 2012, this window will temporarily replace the daily login bonus, although you can take a peek at your daily bonus login by clicking on the bottom-most link. Each door can only be opened on the day it is marked with. For example, the door marked 2 can only be opened on December 2, 2012; not earlier and not later. In other words, once the door's day has passed it can't be opened.
Total Rewards
Edit
Rewards by Day
Edit
Ad blocker interference detected!
Wikia is a free-to-use site that makes money from advertising. We have a modified experience for viewers using ad blockers

Wikia is not accessible if you've made further modifications. Remove the custom ad blocker rule(s) and the page will load as expected.