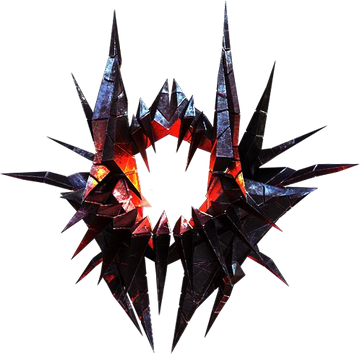 The Zeta Gate is one of ten galaxy gates that is visually different from the others and the reward system is different as well.
This gate requires 111 parts in order to be built.
Alien waves
a) 14 Scorchers.
b) 3 Boss Streuners + 3 Uber Streuners + 3 StreuneRs.
c) 3 Lordakias + 3 Boss Lordakias + 3 Uber Lordakias.
d) 3 Saimon + 3 Boss Saimon + 3 Uber Saimon.
e) 3 Sibelonit + 3 Boss Sibelonit + 3 Uber Sibelonit.
f) 3 Kristallin + 3 Boss Kristallin + 3 Uber Kristallin.
Rewards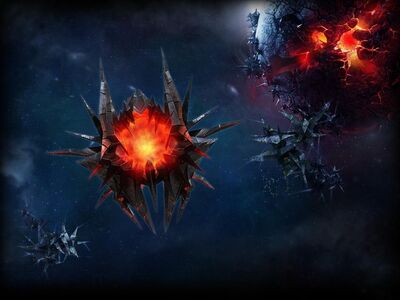 Building the gate
You will need 111 parts to build this Galaxy gate, which is around about 120,000 to 170,000 Uridium. To build this Galaxy gate more efficiently and cheaply, it's recommended to use x1 charges/extra energy or x10 charges/extra energy and hit the multiplier every time it gets on x2.
Gate description
After you have completed the Galaxy gate you will not see the portals for exit and reward, so you will receive direct rewards as you destroyed the last Alien. You should let your P.E.T 10 out at the end of this Galaxy gate so it can collect the EP.
For more information, please visit the Galaxy gate page
List of Alien appearance
Stage No.

Enemy Name

Number of occurrences

Remarks

1

Infernal

3

2

Infernal

9

Scorcher

3

3

Infernal

5

Scorcher

7

4

Scorcher

9

5

Scorcher

8

Melter

2

6

Scorcher

3

Melter

6

7

Melter

10

8

Melter

13

9

Infernal

6

Devourer

1

With barri.

10

Devourer
1
No Barri.
Each group is divided into 10 stages and I complement each emerging patterns. (You must kill all)
Reward Alien kill
I created an alien based on the data page. Because of the numbers to change, "estimate", "review" Please look at as.
Enemy Name

EP








(Single)

Honours








(Single)

Credits








(Single)

Uridium








(Single)

The total number of occurrences

EP

Honor

Credit

Uridium

Infernal

8000

4

25,000

16

32

256,000

128

800,000

512

Scorcher

15,000

8

150,000

32

40

600,000

320

6,000,000

1280

Melter

55,000

12

400,000

256

31

1,705,000

372

12,400,000

7,936

Devourer

1,000,000

512

2,500,000

1.024

2

2,000,000

1024

5,000,000

2,048

UberStreuneR

25,600

128

51,200

64

2

51,200

256

102,400

128

UberStreuner

3,200

16

3,200

4

2

6,400

32

6,400

8

Boss Streuner

1600

8

1600

4

2

3,200

16

3,200

8

StreuneR

3,200

16

6,400

8

2

6,400

32

12,800

16

Streuner

400

2

400

1

2

800

4

800

2

UberLordakia

6,400

32

6,400

16

3

19,200

96

19,200

48

Boss Lordakia

3,200

16

3,200

8

3

9,600

48

9,600

24

Lordakia

800

4

800

2

3

2,400

12

2,400

6

UberSaimon

12,800

64

12,800

16

3

38,400

192

38,400

48

Boss Saimon

6,400

32

6,400

16

3

19,200

96

19,200

48

Saimon

1600

8

1600

Four

3

4,800

24

4,800

12

UberSibelonit

25,600

128

204,800

96

3

76,800

384

614,400

288

Boss Sibelonit

12,800

64

102,400

48

3

38,400

192

307,200

144

Sibelonit

3,200

16

12,800

12

3

9,600

48

38,400

36

UberKristallin

51,200

156

102,400

128

3

153,600

468

307,200

384

Boss Kristallin

25,600

128

51,200

64

3

76,800

384

153,600

192

Kristallin

6,400

32

12,800

16

3

19,200

96

38,400

48

Total

-----

-----

-----

-----

151

5,097,000

4,224

25,878,400

13,216
Trivia: