Ad blocker interference detected!
Wikia is a free-to-use site that makes money from advertising. We have a modified experience for viewers using ad blockers

Wikia is not accessible if you've made further modifications. Remove the custom ad blocker rule(s) and the page will load as expected.
Zeus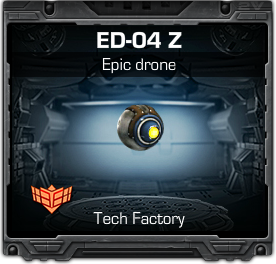 Zeus is an elite drone that can serve as a ship's extra drone. It was released on November 3, 2011. It is similar to the Apis and Iris drones in details, but very different in color and the fact that you can only collect blueprints for this drone from the Golden Pirate Booty, which is available only on certain events. It has two slots just as the Apis but is also more expensive if you plan to purchase it instantly with Uridium, at 1.5 million. With every blueprint collected, uridium price lowers in building cost. It is possible to obtain a completed drone from Booty Box with a very, very, very low chance.
Uridium cost
Edit
| Pieces | Price: | 5% rebate | 25% rebate | 30% rebate |
| --- | --- | --- | --- | --- |
| 0 | 1500000 | 1425000 | 1125200 | 1050000 |
| 1 | 1432000 | 1360400 | 1074000 | 1002400 |
| 2 | 1364000 | 1358000 | 1023000 | 954800 |
| 3 | 1295000 | 1230250 | 971250 | 906500 |
| 4 | 1227000 | 1165650 | 920250 | 858900 |
| 5 | 1159000 | 1101050 | 869250 | 811300 |
| 6 | 1098000 | 1043100 | 823500 | 768600 |
| 7 | 1036000 | 984200 | 777000 | 725200 |
| 8 | 975000 | 926250 | 731250 | 682500 |
| 9 | 914000 | 868300 | 685500 | 639800 |
| 10 | 852000 | 809400 | 639000 | 596400 |
| 11 | 791000 | 751450 | 593250 | 553700 |
| 12 | 730000 | 693500 | 547500 | 511000 |
| 13 | 668000 | 634600 | 501000 | 467600 |
| 14 | 607000 | 576650 | 455250 | 424900 |
| 15 | 545000 | 517750 | 408750 | 381500 |
| 16 | 491000 | 466450 | 368250 | 343700 |
| 17 | 436000 | 414200 | 327000 | 305200 |
| 18 | 382000 | 362900 | 286500 | 267400 |
| 19 | 327000 | 310650 | 245250 | 228900 |
| 20 | 273000 | 259350 | 204750 | 191100 |
| 21 | 263000 | 249850 | 197250 | 184100 |
| 22 | 252000 | 239400 | 189000 | 176400 |
| 23 | 242000 | 229900 | 181500 | 169400 |
| 24 | 232000 | 220400 | 174000 | 162400 |
| 25 | 222000 | 210900 | 166500 | 155400 |
| 26 | 211000 | 200600 | 158250 | 147700 |
| 27 | 201000 | 190950 | 150750 | 140700 |
| 28 | 191000 | 181450 | 143250 | 133700 |
| 29 | 181000 | 171950 | 135750 | 126700 |
| 30 | 170000 | 161500 | 127500 | 119000 |
| 31 | 160000 | 152000 | 120000 | 112000 |
| 32 | 150000 | 142500 | 112500 | 105000 |
| 33 | 140000 | 133000 | 105000 | 98000 |
| 34 | 130000 | 123500 | 97500 | 91000 |
| 35 | 119000 | 113050 | 89250 | 83300 |
| 36 | 113000 | 107350 | 84750 | 79100 |
| 37 | 106000 | 100700 | 79500 | 74200 |
| 38 | 99000 | 94050 | 74250 | 69300 |
| 39 | 92000 | 87400 | 69000 | 64400 |
| 40 | 85000 | 80750 | 63750 | 59500 |
| 41 | 78000 | 74100 | 58500 | 54600 |
| 42 | 72000 | 68400 | 54000 | 50400 |
| 43 | 65000 | 61750 | 48750 | 45500 |
| 44 | 50000 | 47500 | 37500 | 35000 |
| 45 | 0 | 0 | 0 | 0 |
Source: http://i557.photobucket.com/albums/ss19/ccurns/DarkOrbit/ZEUSPrices.jpg